Science
Our Philosophy
At St Julie children are encouraged to investigate, solve problems and ask questions about a wide range of aspects of the world around them. We explore biology, chemistry and physics in the most practical and engaging ways possible.
Trips to a variety of sites and visitors to school form a vital part of our children's scientific experience. Our extensive school grounds offer the chance for investigations to be carried out, including the growing of plants in the school garden and observation of the seasons and wildlife.
Staff and pupils worked together to establish our 'Science Principles' . This is our vision of science at St Julie. This can be downloaded at the bottom of the page.
SEE 'SCIENCE OVERVIEW' ON THE DOCUMENT TAB FOR AN OUTLINE OF SCIENCE TOPICS IN EACH YEAR.
Year 5 visit to Jodrell Bank
Silver Primary Science Quality Mark (PSQM)
Our commitment to science teaching has been recognised through the Award of the Silver PSQM.This celebrates excellence in our teaching and learning. It demonstrates that children are engaging with great science both in and outside the classroom, and developing positive attitudes towards science as well as securing understanding and skills.
Feedback from the Award noted:
"The school is clearly committed to providing an excellent science education for its pupils and extending its reach into the wider community."
How can I help my child in Science?
1. Know what they are doing in school.
Take a look at our science topic overview at the bottom of the page. This, and the information on class pages, will let you know what we are studying in school. Ask your children what they have been learning. Encourage them to respond to science questions on class blogs.
2. Science Week
This is now a strongly established annual event at St Julie. Each year we continue to be amazed at the new investigations presented by the children. Please continue to encourage this creativity and enquiry. The video 'Scientific Method' at the bottom of the page is of particular help for KS2 children when designing their investigations.
We welcome and encourage parental involvement in science.This is seen most actively during our annual Science Week. If you feel that you have any experience or contacts that could support our science learning, please speak to your child's teacher.
3. Get Hands-on
We encourage children to see science happening around them all the time and not just at school. For this reason Reception and Key Stage 1 children will bring home Science bags during the summer term. These contain a variety of simple investigations to carry out at home with an adult.Please encourage children to discuss their observations. We hope to extend the use of the science bags throughout the year.
Children are encouraged to engage with investigations here and on class pages.
A sample from our Science Explorer home bags
4. Look up fun, practical science experiments you can do at home with everyday objects.
For example:
Ask 'What happens when you mix food colouring in milk?' Then add washing up liquid and watch what happens.
Why not try making your own mini exploding volcano? Just add bicarbonate of soda, food colouring, washing up liquid and vinegar. Then stand back and watch the eruption!
Cooking is also a great opportunity to mix ingredients, add heat and examine changing states.
Try exploring changing states with ice and water to begin to see those changes that can be reversed and those that can't.
A real favourite would have to be 'gloop' — use water and cornflour (add food colouring too if needed) to explore solids and liquids. Just be prepared to get messy!
Of course, there are also some wonderful science kits available to buy to push your scientists further – making crystals, rockets and even bouncy balls.
Anything where they can be hands-on and see the science happen in front of their eyes is guaranteed to be get them interested.
Further support and useful weblinks
From the blog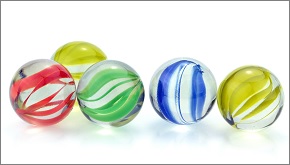 Super science activities to try at home
Hands-on activities are a great way to start talking about science at home.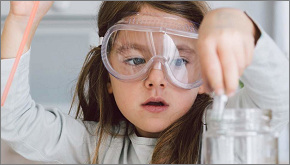 Books to inspire young scientists
Encourage your child's interest with these great books to inspire young scientists.
Files to Download